Let me first preface this post by stating that in technical terms, I haven't graduated yet. While I finished all the courses for my degree about a month ago, I won't receive my degree certificate until May. With that said, let's get into the meat of this post.
Throughout the three and a half years I spent at UBC, I found that I was consistently conflicted when it came to evaluating the merits of my undergraduate experience. Some parts changed my life, while others seemed like a complete waste of time.
The purpose of this post isn't to tell you about which parts I liked, and those that I didn't. I may do that in another blog post, but this one focuses on consciously incorporating more of those value-adding opportunities into your university experience. It's about taking advantage of all the great resources and opportunities you have access to but perhaps aren't aware of. You can read this post from beginning to end, or skip to the parts that interest you most via the table of contents.
Note: I suspect that many of you arrived at this article to find out how I graduated in 3.5 years as opposed to 4. If so, skip to Exchange programs & shortening your degree.
Selecting a degree program
Like most students that apply to university, I felt unprepared to make an educated decision on which degree I should pursue. Using a process of elimination, I eventually arrived at business. It seemed to naturally align with my interests (I'd started my company, AdMark Technologies around the same time I was applying for universities) while offering a robust set foundational skills that I could use in my business endeavours. So I thought. Based on these factors, I decided to apply to the Sauder School of Business, which I was later accepted to.
In hindsight, I made broad, untested assumptions about what I would get from my academic education. For instance, I assumed that the commerce program would offer me the opportunity to develop a wealth of knowledge on starting and growing startups. Having finished my degree now, I would estimate that I only took 2-3 courses (mostly in finance and accounting) that were helpful for managing a startup. You might feel like viewing the program requirements is enough to get a solid idea for content and learning value of a degree, but it isn't. Course descriptions will usually sound great, but the reality is often markedly different. Because I didn't thoroughly examine what the (business) degree was supposed to each, I ended up feeling very disappointed when I started taking classes.
With those lessons in mind, I've compiled a few tips that will help you avoid similar mistakes. First, make sure you have a clear picture of your options. Don't generalize entire faculties with common stereotypes like "arts doesn't offer practical skills" or "business is only for extroverts." Look at every program, across all faculties, and single out the ones that interest you. I highly recommend using the degree navigator at you.ubc.ca. It aggregates every undergraduate degree program that UBC offers, which you can then filter by topic or program name.
There's even a tool that will recommend programs to you based on your stated interests (sustainability, helping people, government, etc.).
If you use these tools, you may end up discovering a host of exciting options that you never knew existed. For example, I found that there were complete undergraduate degrees for both Behavioural Science and Cognitive Science. Before applying, I had never heard of either of them.
After you find the programs you're interested in, look for their degree requirements section. You can also find this on you.ubc.ca. Here's what the requirements for the commerce program look like:
Now, remember, viewing the requirements alone isn't enough. We want to see what kinds of concepts, theories, and skills you'll acquire through these courses. Fortunately, there's an easy way to dig deeper without ever taking that course. 🙂 Go to either CourseHero or OneClass and search for "[COURSE CODE] Syllabus." You would replace the part in brackets with ECON 101, COMM 291, or whatever the course is that you want information for. The syllabus will neatly break down the learning goals, assignment structure, and other details of the course in-depth. Do this for all your classes, and you should get a clear idea of what you can expect to learn from your degree.
Selecting courses
Material that's not relevant, instructors with poor teaching ability, and harsh grading can make courses far more difficult than they need to be. Although you're bound to run into these issues throughout your undergraduate experience, you can minimize the risks by selecting your courses carefully. In addition to the tip I mentioned above (about vetting courses by viewing the syllabi beforehand), I've also used several tools to maximize the chances of getting into the courses I want.
The first is RateMyProfessors.com. After finding your professor on the platform, you'll be able to see reviews and ratings from previous students. If there are any red flags about the professor, you should be able to spot them here.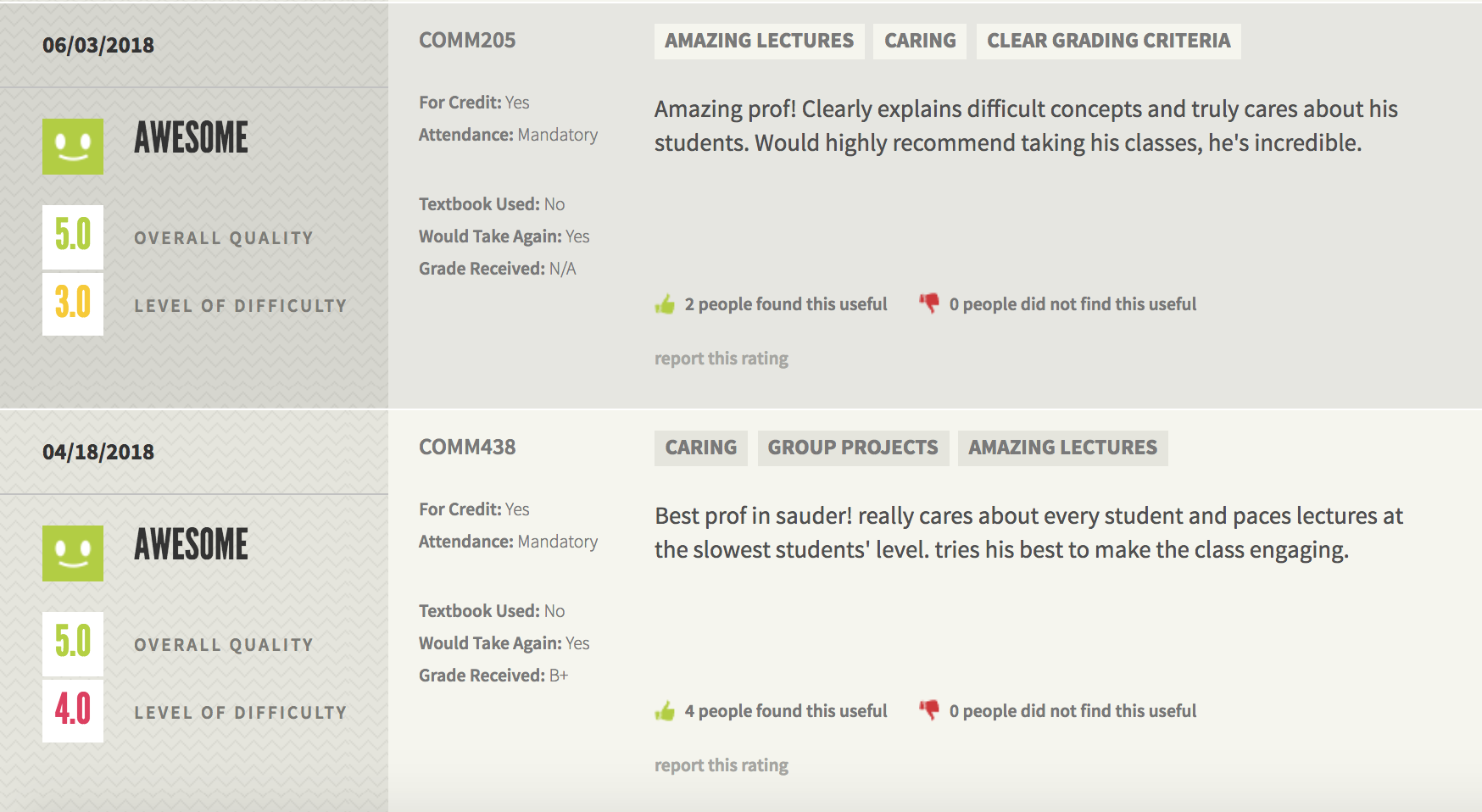 When selecting courses on SSC, you may find it tedious to look up the professor's name, copy it into RateMyProfessors, and repeat over and over again. Fortunately, there's a chrome extension (developed by a UBC Student, Atsushi Yamamoto) called UBC-RMP that makes the process a lot easier. After installing it, all you'll be able to hover over the professor's name in SSC to instantly pull up their ratings, along with a link to their page on RateMyProfessors.
It's important to note that RateMyProfessor ratings have a few limitations. The first is that inevitably, students are more likely to submit a review for a professor that they strongly dislike, as opposed to one they've had a great experience with. Thus, these ratings usually have a negative bias towards them. The second is that RateMyProfessors will only give you a very qualitative understanding of your professor. If you're specifically interested in how a class will affect your grades, you need to look elsewhere. That brings us to the grade reports you can access through UBC's Planning and Institutional Research Office.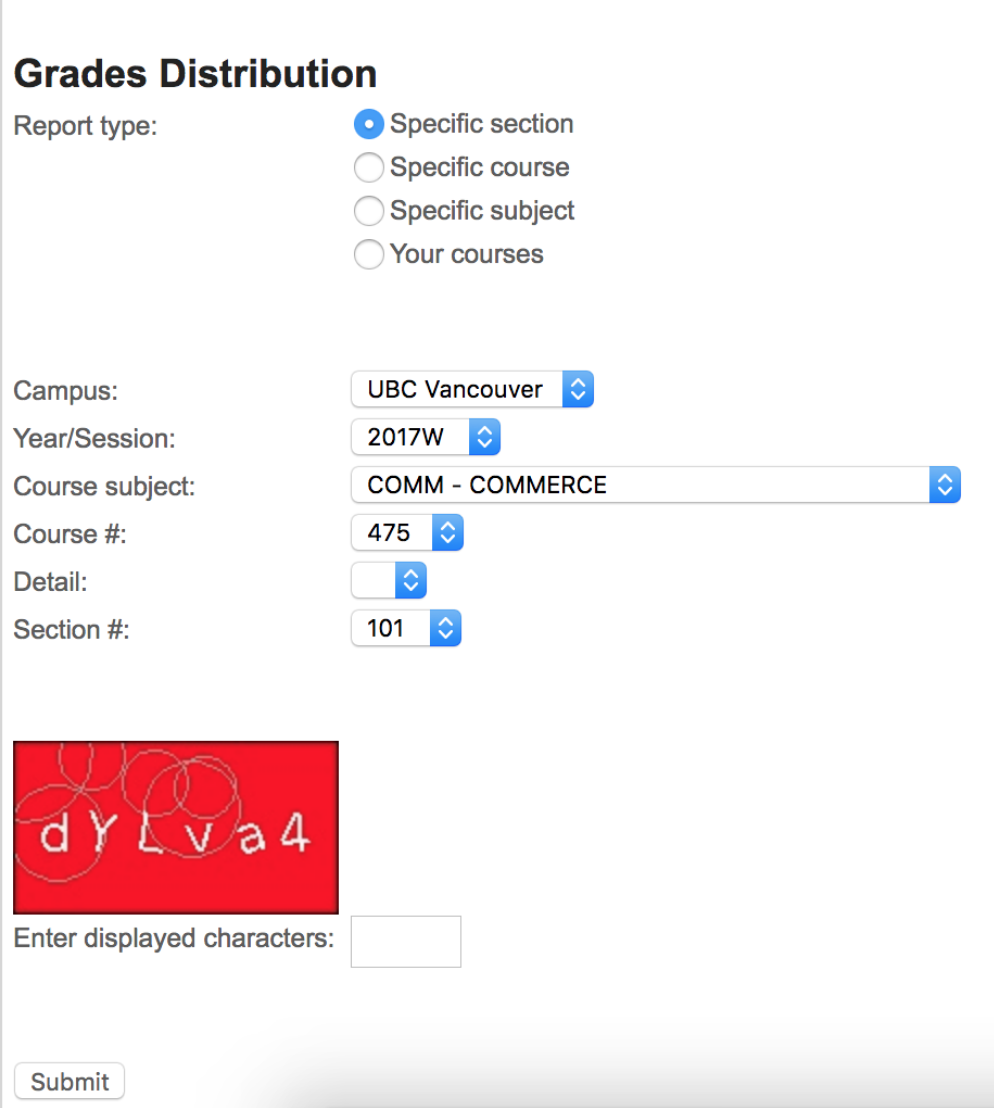 This tool, commonly referred to as PAIR, is one of the most valuable and under-utilized resources at UBC. With it, you can view the average and standard deviation for any section of any course at UBC as recent as three semesters ago. Here's a sample of how it looks.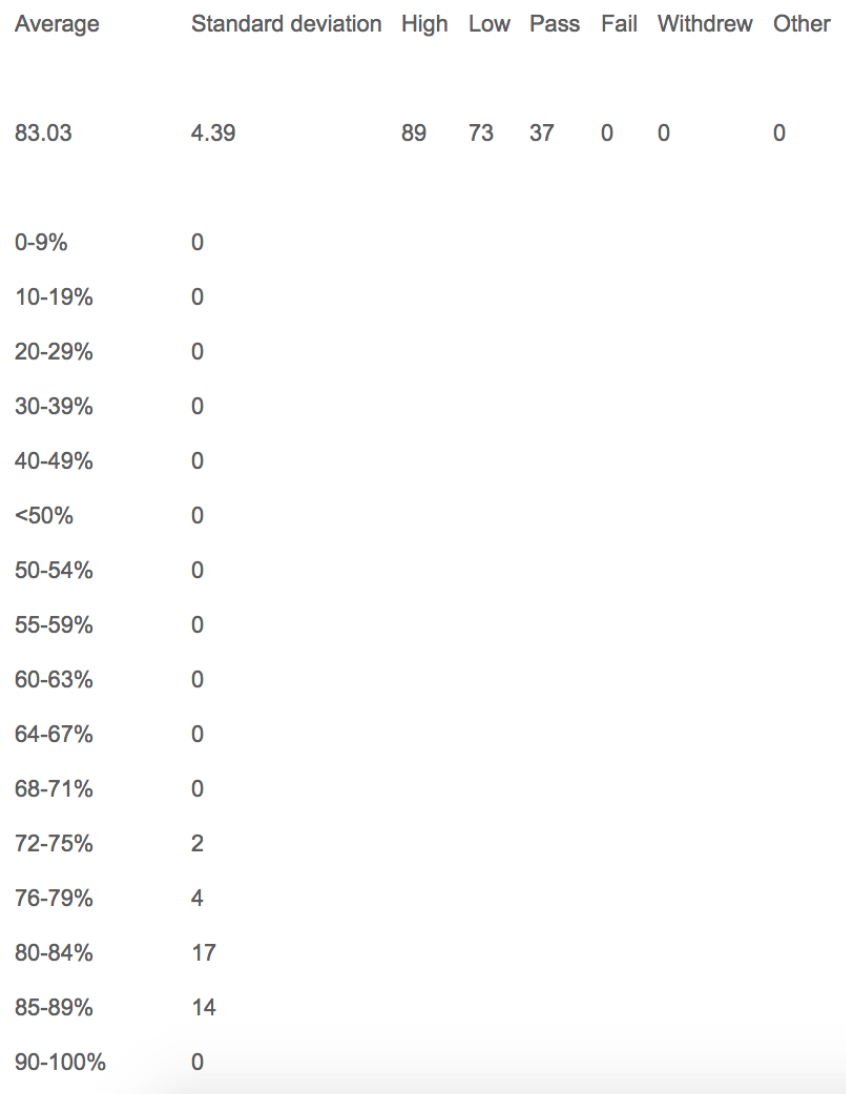 In addition to viewing the grade information for a specific section, you can also receive data on any course, across all sections, for a given year.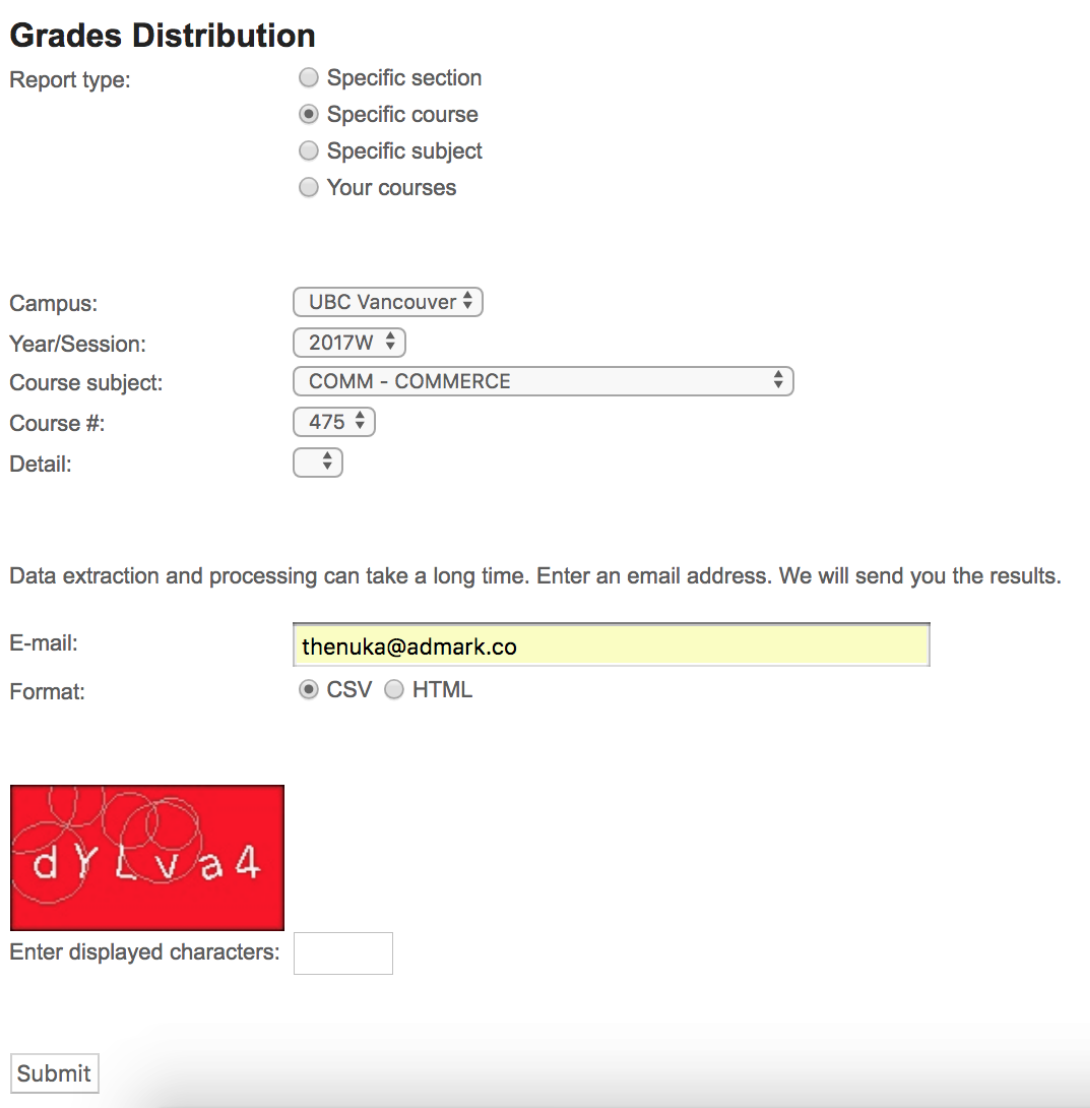 After you press the submit button, UBC will email you a grade report that looks like this.

These reports are particularly useful if you're trying to decide between different professors for the same course. Again, remember that PAIR only allows you to access course data that is at least three semesters old.
Getting in courses
At this point, you have the tools and resources you need to decide if you should take a course. But what if you can't get in? This is a common problem that almost every student will face at some point. Fortunately, there are a few resources that can help here as well.
Enter MyUBCCourseIsFull. This tool allows you to receive an email or text message when a course spot available, saving you the hassle of checking SSC over and over again. However, the catch here is that you need to pay $5 per course you want to monitor.
Create your own course
UBC is one of the few universities that allow students to create their own, for-credit courses. Here, you'll find a complete list of all the student-directed seminars currently available at UBC. Courses that are running right now include The Age of Endarkenment: An Intellectual History of Modern Europe, A Critical Analysis of the Role of the University, and Emotion – A Psychosocial Approach.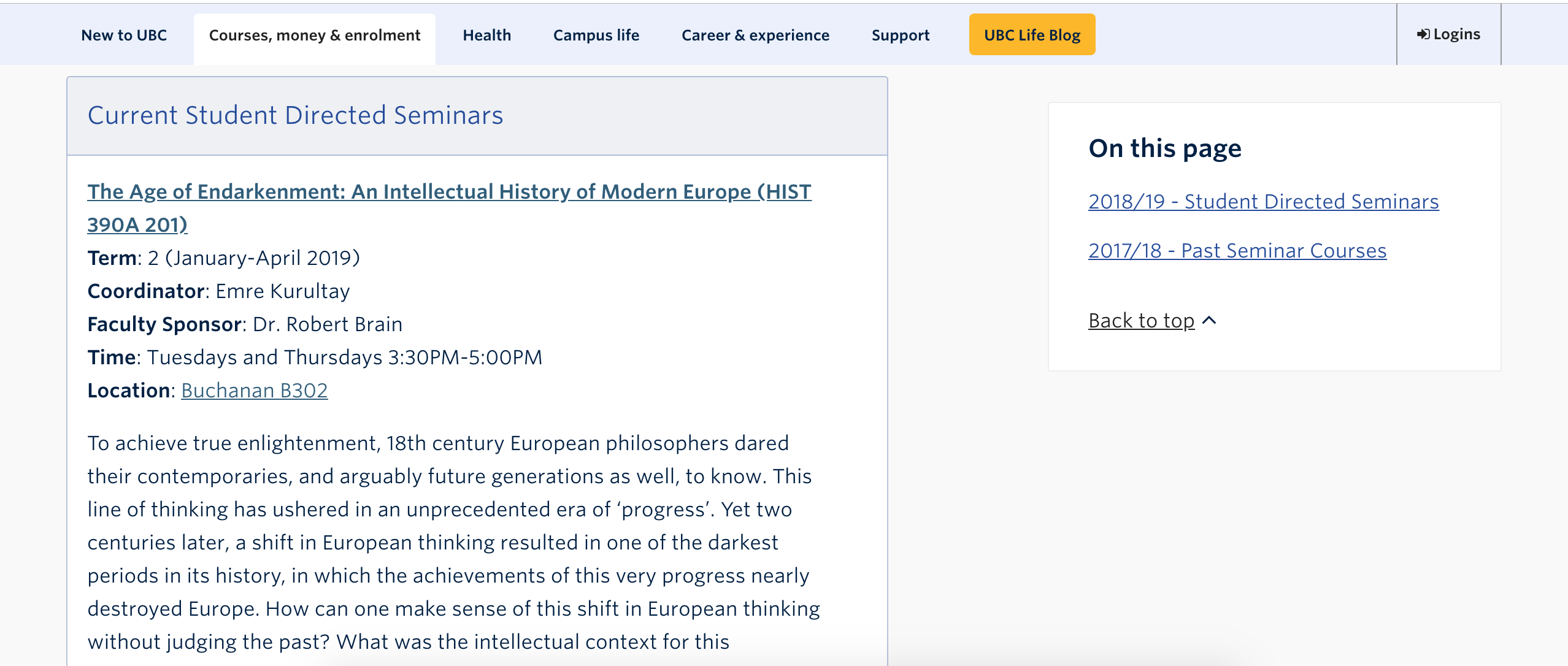 As you can see, these courses are very distinct in their scope and focus. Although I never ran (or attended) a student-run course myself, I wish I had. Unfortunately, I only realized that they existed mid-way through my final semester at UBC.
There are a few additional points worth noting about these courses. For starters, they're graded by the student instructor as opposed to a faculty member. Second, you need to be an upper year student to create a course (3rd or 4th year), and you need to do it under the supervision of a faculty member. Third, courses can only be worth three credits – you can't do a year-long course. If any of this sounds at all interesting to you, consider creating, or at least attending a student-directed seminar.
Like what you see so far?
Join my newsletter! I'll send you updates whenever I release a new post.
Going on exchange
Through it's Go Global office, UBC offers students the opportunity to study at over 200+ universities around the world. Following my third year at UBC, I spent the summer studying at three great institutions – The London School of Economics, The National University of Singapore, and Shanghai Jiao Tong University.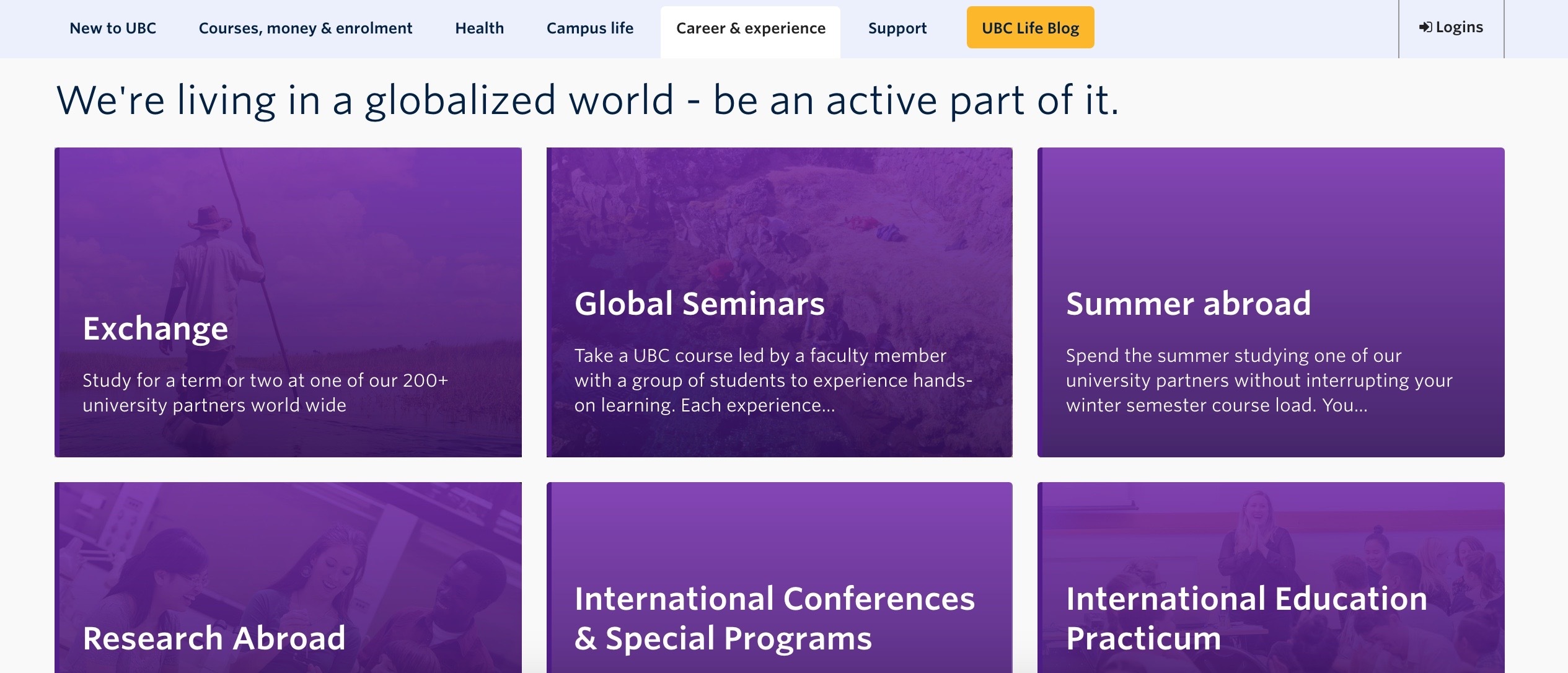 Before I get into my personal experiences, I'll provide a quick primer on how Go Global works. To start, you have six different ways to study abroad – exchange, global seminars, summer abroad, research abroad, international conferences & special programs, and international education practicum. I'll dig into the first three in my post, given that the others won't get you academic credit.
Exchange – These are one, or two semester-long study abroad sessions. You enroll at your host university and experience life as a regular student there. You pay the same tuition fees per course as you would at UBC, but UBC will also give you $1000 per term you spend abroad. In total, UBC has exchange partnerships with over 200 universities across Asia, Europe, Africa, and North America. However, you won't be able to access all 200 of these universities – your selection is dependent on your faculty. For example, commerce students have their choice of 92 universities, arts students have 144, engineering 64, and so forth. You can filter for your faculty on this page.

For any Go Global program (whether it's an exchange or one of the other five programs) you need a minimum average of 70% in your most recent academic term. However, certain universities have additional requirements on top of this. The University of Tokyo, for example, requires that all applicants have a cumulative average of 75% or higher. In general, spots in exchange programs are competitive. It's for this reason that Go Global asks you to apply for three schools, ranking them in order of preference. The higher your average, the greater the chance you'll get into your top choice.
Another point worth noting about exchange partners – you may not see the universities you're looking for. If you want to pursue an exchange semester at Harvard, Oxford, Stanford, or MIT through a Go Global exchange, you can't. I don't quite understand the reason behind this, but I do know that many of these universities have their own visiting student programs. This includes Oxford and MIT. If you really want to visit one of these schools (that aren't listed on the Go Global website), it may be worth seeing a Go Global advisor to create a custom arrangement. The best schools (by world ranking) you can apply to via Go Global at the moment are The National University of Singapore, University of Edinburgh, and University of California.
Before applying to any program, it's critical that you consult with a Go Global advisor on how an exchange would affect your degree requirements. If you take courses abroad that don't align with your degree requirements, you may end up extending your degree by a semester or even a year.
Summer abroad – These are similar to exchange programs, with a few notable differences. First, not all summer programs are exchange programs. While you will only pay your regular UBC tuition for fall and winter exchange programs, you may end up having to pay significantly higher fees for summer programs.

If on the summer program page, it states that you need to pay tuition directly to the partner institution, that means that UBC will not subsidize your spot. This was the case for my time at The London School of Economics, as well as The National University of Singapore. If it states that you pay your fees to UBC, as it does for the Shanghai Jiao Tong University, it means UBC will subsidize your spot.  It's also worth noting that UBC will still offer $1,000 per summer exchange you complete, even though they're much shorter. I received a total of $3,000 for my summer studies.
The second difference is that summer programs usually last 1-2 months, and allow you to complete 3-6 credits worth of coursework. This was the case with all three of the schools I went to. I received three credits from SJTU, four from LSE, and six from NUS.
Interestingly, the shorter duration of these programs means you can take two, or even three exchanges in the same summer. Instead of spending (a minimum) of four months during a semester-long exchange, you can visit three different schools over the same period. Additionally, because you'll have gaps between programs, you'll also have the opportunity to travel to other places in your free time. For example, after finishing my exchange at SJTU, I went to Beijing, Seoul, and Hong Kong. The gap between my sessions at NUS and LSE was smaller, so I didn't travel anywhere in-between. The key here is selecting a combination of summer programs with dates that do not overlap.
Because I was able to rack up thirteen credits through my summer programs, I was able to fill the equivalent of almost one semester of academic credits. This allowed me to fulfill all of my degree requirements ahead of time, finishing in 3.5 years as opposed to 4. While regular exchanges won't shorten your degree (and in fact, they often lengthen it), summer programs can.
Another notable difference between summer programs and semestered exchange programs is your choice of institutions. While you can't attend Oxford University, Cambridge University or The London School of Economics during a fall or winter exchange, you can with summer programs.
Finally, there are specific experiences you can only have during a summer exchange. During my time at NUS I took a course called Health of the Poor. We learned about public health systems, the challenges of delivering healthcare solutions in rural environments, and other related topics. As part of the course, we took a one week trip to Tamil Nadu in India to shadow medical staff at The Christian Medical College in Vellore.
Global Seminars – These are 3-6 credit, specialized courses that are taught by UBC faculty. Unlike exchange and summer abroad programs, you won't be registering at another institution. You're simply doing a UBC course in another part of the world. I didn't do one of these myself, but in hindsight, I wish I had.
Global seminars that are available now include Witnessing Auschwitz in Poland, Learning Chinese in a Living Classroom in Taiwan, and Ecology, Technology, & Indigeneity in the High Amazon. In short, there are some very, very cool courses you can take all around the world.
Build relationships with your professors
As an integral part of a university education system, we, as students, inevitably cross paths with professors hundreds of times throughout our degree. Usually in lectures, sometimes in office hours, and occasionally around campus. Despite this, we seldom take the time to know a professor beyond a purely academic level.
If you do take the time, you may find it to be tremendously worthwhile. One of the professors I speak to frequently, Adam Saunders, has given me invaluable advice in a number of areas – productivity, finding meaning in work, and even relationships. He's also supported me in a number of different endeavours including my graduate school applications.
Two questions frequently come up at this point. First, how do you know which professors are worth building a personal relationship with? Second, how do you build that relationship?
I reached out to Adam after he demonstrated a memory technique (that he's now famous for) on the first day of class. After hearing the names of each student just once (in a classroom with hundreds of students), he successfully memorized all of them. Feeling intrigued, I decided I wanted to learn more.
Around this time, I had also read a book about competitive memorization techniques called Moonwalking with Einstein. I had a hunch that Adam might be utilizing some of the techniques from this book, so I emailed him to see if I was right. He responded with an invitation to visit him after the semester, which I later accepted.
When I finally did visit him (many months later), I found myself enjoying the conversation much more than I'd initially expected. From then on, I made a point of visiting Adam every few months to give an update on my life and chat about various topics that interested me.
Reflecting on the experience now, I have a few tips for building relationships with professors:
Tip One: Connect with professors that you share a common interest with beyond course work. Side projects, careers, and even hobbies are all good places to start.
Tip Two: Start by emailing the professor. Be clear about what your interests are, and why you want to speak to them. Ask for an appointment, and be willing to work around their schedule.
Tip Three: If you find the conversation helpful, maintain the relationship. I made a point of checking in with Adam every 1-2 months via email or through in-person conversations.
Having close relationships with professors is especially important if you're considering graduate school. Graduate schools will often ask for at least two academic references that know you well. If you go through university without building these relationships, you may find that you have no one to support you in your graduate applications later in life.
Summary
I wrote this post because I missed out on a lot of opportunities that I discovered too late. Hopefully, after reading this, you won't make the same mistake. 🙂
If you have any questions or comments, I'd love to hear them! You can post them in the comments box below or email me at [email protected]